Review Quotes:
The Cacophonator II is one of the craziest products we've seen for a while.(Future Music 08/11)
To make things a bit more predictable, it's possible to run external signals through the Cacophonator's audio input, allowing it to operate as an effect pedal. (Future Music 08/11)
the Cacophonator II is in its element producing wild and caustic sounds that sit halfway between a run-of-the-mill subtractive synth and a hacked speak-n-spell. The difference, though, is its ability to work these sounds.(Daniel Petry/Resident Advisor 11/11)
Despite the brutally utilitarian appearance of the raw aluminium case, the unit is clearly well built, with high-quality parts all round and a good solid feel to all the knobs and switches. (Future Music 08/11)
Cacophonator Noir
further development of the cacophonator II
new features: more bass,
all audio on/off switch (precise cut of audio-output, DJ-friendly),
preamplifier current cut switch !!
(absolute chaotic soundpatterns, when power is shut down for 60 seconds),
bypass push switch with led, audio input with preamplifier, solid black alu-case,
solid black alu-knobs, new PCB inside, no plastic outside.
all components are of high quality to last forever. One year warranty!
mono input, mono output (6,3mm),
dimensions:188x120x80mm, weight: ca. 1kg
Sold out.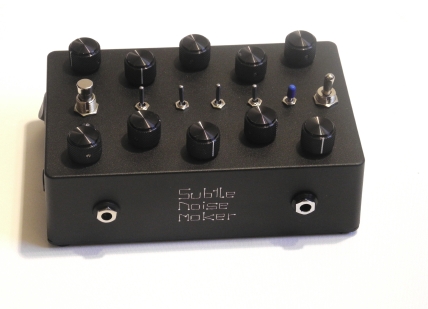 Videos
Manual